Essilor Vision Foundation Helps Eye Doctors Give Back
By Andrea Haymore, Vice President of Programs and Alliances, Essilor Vision Foundation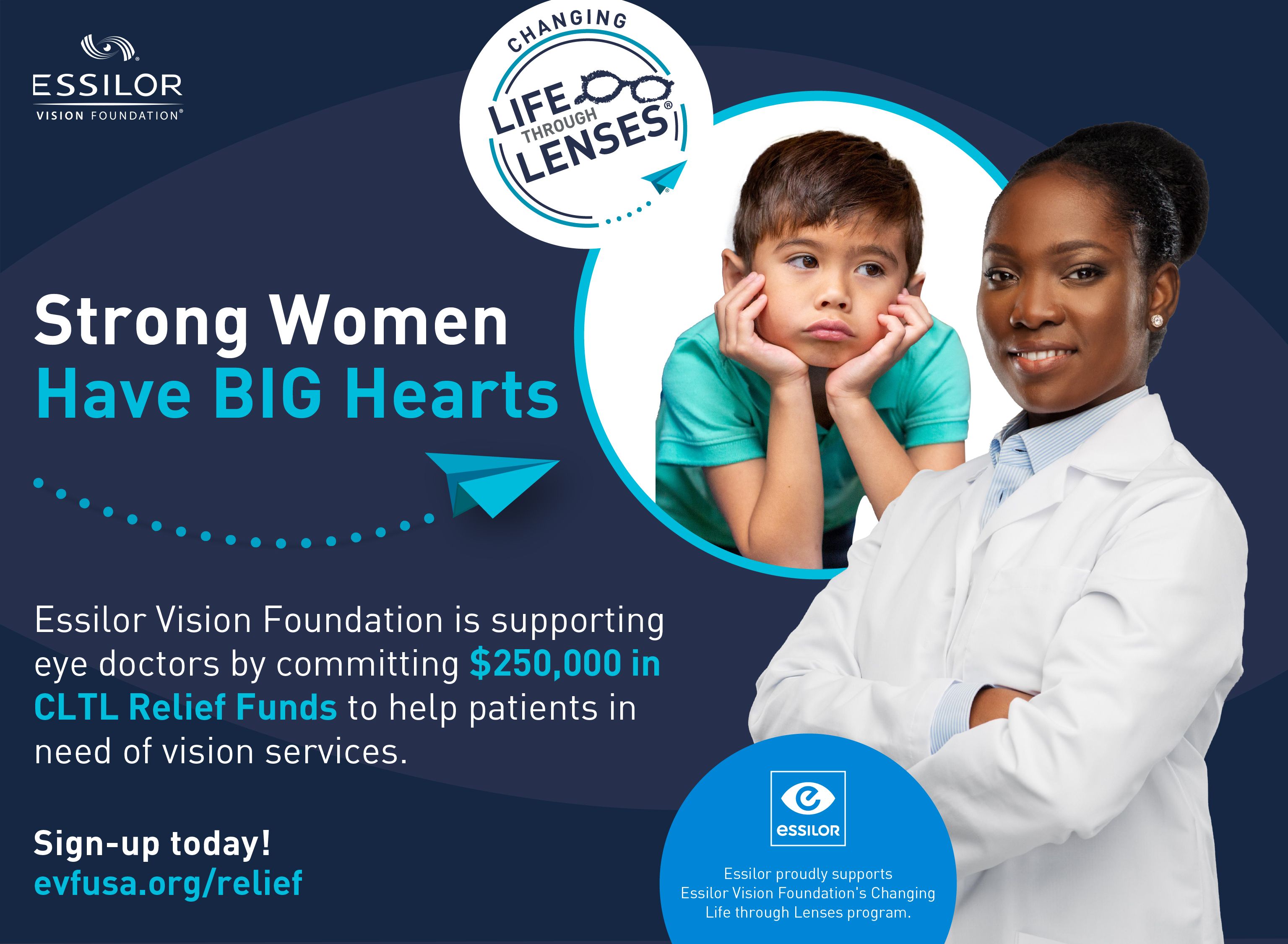 Even though the pandemic is easing in the U.S., 63 million adults are still struggling to cover expenses such as food, rent and medical care.

At Essilor Vision Foundation (EVF), we strive to help those less fortunate receive the critical vision care they need, and eye doctors are instrumental in helping us reach these patients. That's why EVF is committing $250,000 to the Changing Life through Lenses® (CLTL) Relief Fund campaign. Every doctor enrolled in Changing Life through Lenses can sign up for the CLTL Relief Fund to receive up to $1,500 when they provide vision services to eligible charitable patients*.  The CLTL Relief Fund is available until December 31, 2021.
In a recent survey, eye doctors stated there are two main barriers to supporting people in need – the cost and not knowing how to get engaged. Changing Life through Lenses addresses these barriers and helps eye doctors give back.
Eye doctors receive FREE glasses for underserved patients. Without CLTL, eye doctors often have to donate the frame and lenses themselves, which is a significant cost. CLTL removes that obstacle by ensuring eye doctors always have access to free complete glasses for patients in need. There are other costs as well such as staff, exam materials, and identifying, qualifying, and examining charitable patients. CLTL Relief provides funding to help address these costs.
CLTL has resources to help doctors engage in their community. The CLTL website has guides, tips, and how-tos for everything from how to host a vision event to how to partner with a local non-profit. It also offers portable exam equipment to help doctors who serve outside their practice.
"When an eye doctor takes the optometric oath, that doctor promises to put others' needs above their own, and to see that no one lacks for proper care," says Dr. Millicent Knight, Senior Vice President, Customer Development Group, Essilor of America. "Participating in the CLTL Relief Fund helps ODs honor that oath and make a difference in their communities."
Join us in helping to provide vision care to those who need it most.
*Eligible patients are those at or around the poverty level without insurance for this pair of glasses as reasonably determined by the provider.