Prescribe Protection With Crizal Prevencia+
By Essilor News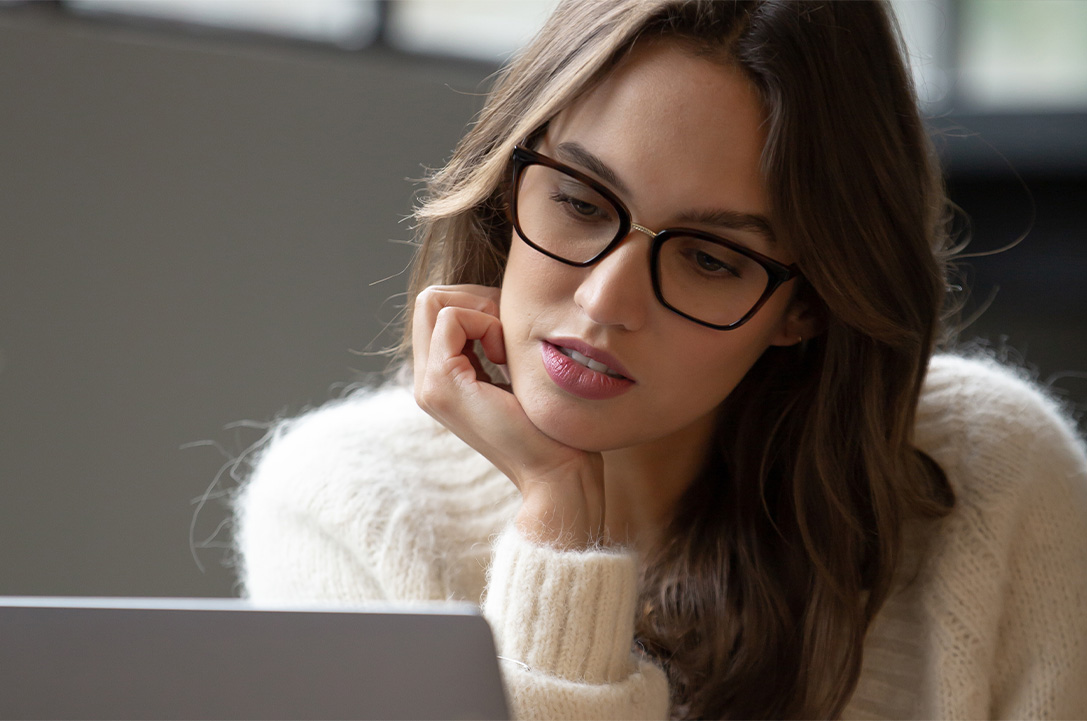 September 15, 2016
As an eyecare professional, you likely already know that 60 percent of adults spend at least five hours a day on digital devices. All of this screen time means your patients are increasing their exposure to artificial light sources which emit Harmful Blue Light1, possibly increasing their risk of developing age-related macular degeneration (AMD)2.
One way you can help your patients protect their eyes from exposure to Harmful Blue Light is by recommending lenses that block it. Crizal Prevencia+ Anti-Glare Lenses protect eyes from Harmful Blue Light in everyday surroundings including sunlight, indoor lighting, and most digital screens. Crizal Prevencia+ builds on the Smart Blue Filter™ feature which is embedded into the lens. Lenses with Smart Blue Filter™ are designed to reduce at least 20 percent of Harmful Blue Light from entering the eyes, while transmitting the beneficial blue-turquoise light that is known to regulate the sleep cycle and contribute to memory and mood. By adding Crizal Prevencia+, exposure to Harmful Blue Light is reduced by at least 30 percent. Your patients also get the clearest vision possible as Crizal lenses resist scratches, smudges, dust and water.
You can also recommend these Essilor lenses with Smart Blue Filter:
Transitions
All Transitions lenses help protect against Harmful Blue Light.  Indoors, Transitions lenses safeguard eyes against Harmful Blue Light from artificial sources like digital devices and LED lights, while outdoors they help provide extra protection from the sun, which emits up to 500 times more Harmful Blue Light than common digital devices, by shielding eyes from glare, intense Harmful Blue Light and UV rays.
Varilux
Varilux was the first progressive lens and remains the industry standard. Varilux is designed to provide sharp, natural vision at any distance and in any situation. Now Varilux digital lenses include Smart Blue Filter to give patients the additional benefit of protection against Harmful Blue Light.
Eyezen+
Eyezen™+ lenses are our newest single vision lens innovation and are the only lenses in the Eyezen brand portfolio to contain the Smart Blue Filter™ feature. There are three Eyezen+ lens designs, and each also helps reduce digital eye strain. Eyezen+ lenses are only available through independent eyecare professionals.
If your patients are ready to get serious about protecting their eyes from Harmful Blue Light, talk to them about Crizal Prevencia+ for the complete protection system, and know you can confidently recommend  the right lens for their lifestyle.
1 Arnault E., Barrau C., Nanteau C., Gondouin P., Bigot K., et al. "Phototoxic Action Spectrum on a Retinal Pigment Epithelium Model of Age-Related Macular Degeneration Exposed to Sunlight Normalized Conditions." PLOS ONE 8(8); e71398. doi:10.1371/journal.pone.0071398. Published August 23, 2013. Identified Harmful Blue Light through in vitro experiment on swine retinal cells, where the most toxic wavelengths are high-energy visible light falling between 415 and 455nm on the light spectrum (Blue-Violet light).
2 Dillon, James, et al. "Transmis­sion of light to the aging human retina; possible implications for age related macular degeneration." Experimental Eye Research, Volume 79, Issue 6, December 2004, Pages 753–759. doi:10.1016/j.exer.2004.06.025